How To Help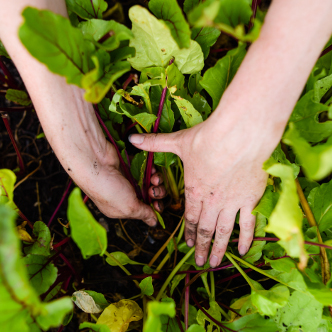 There are many ways to help! For those who enjoy the outdoors, the garden needs ongoing attention all season long with planting, harvesting, watering, weeding, etc. If you have retail experience or just enjoy talking with people, you can help sell a portion of the garden harvest at the Rochester Farmers' Market to generate funds to support the garden. There are many behind-the-scenes activities as well. People are needed to record and maintain records of the harvest, transport the food to the Neighborhood House Food Pantry or farmers' market, update the website, and communicate with the various entities involved in making the Grow to Give Garden a success. No skills are required to work in the garden, aside from a willing body and heart, so if you have a willingness to help, there is an opportunity for you!
There are many ways to help with the garden, and we are actively recruiting volunteers. Whether you can help once per week, once per month, or once per year, we invite you to partner with us!
Volunteer Opportunities
DROP-IN VOLUNTEER: Check the sign-up page for regular times to volunteer at the garden. There is also a mailbox at the garden which has a notebook from our lead gardener. If you have some spare time, swing by the garden and check the notebook to see what needs to be done that week.
FARMERS' MARKET VOLUNTEER: We need people to assist at and prep for the Rochester Farmers' Market. We will have a booth at the Farmers' Market 4 Saturdays this summer.
GROUP OPPORTUNITIES: We have small and large group opportunities if you are involved with a group that would like to come together to harvest, plant, build etc.
Maintaining and harvesting a bountiful garden requires a lot of dedicated volunteers, and we are grateful for our volunteers! Whether you are interested in helping once per week or just once, we can find a place for you. Everyone is welcome! Please check out the Upcoming Events and Sign-Up pages for upcoming ways to help or reference our Contact Us page for other questions about how to help benefit our community through our project.